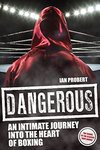 Some two and half decades ago, an up and coming sportswriter focusing on boxing watched as the middleweight that had taken him under his wing was critically and permanently injured during a world title fight. The emotional impact of that event was enough to keep him from writing about his favorite sport ever again – until now.
Not long after that fight, the author was stricken by a chronic, undiagnosed illness that left him, like his boxer mentor, unable to lead a normal, productive life. But unlike that boxer, an accurate diagnosis eventually led to his recovery, as well as to a decision to revisit some of the demons in his own life following the death of his emotionally unavailable and abusive father.
The boxer was British middleweight Michael Watson, and the sportswriter is Ian Probert, an author who has written in multiple genres. Dangerous, the resulting book, is a deeply personal and extremely readable account of where many of the top fighters in the world of boxing in the 1990s are today in their personal lives and struggles. The book's title reflects the often severe mental and physical toll that boxing has taken on many of them, while recognizing that even those who are most damaged would return to the ring in a heartbeat.
Boxing fans, and particularly British fans, will no doubt find the book to be a fascinating updating of many former World Champions who are no longer in the public eye. They will also find that Probert's interviews provide a level of insight into the sport and its practitioners that is devoid of the hype and typical writing style that accompanies a great deal of sporting journalism.
Those that aren't boxing fans (like me) will be equally drawn in by the well-developed portraits of some of the most highly skilled and dedicated athletes in any sport, as well as by the second story arc of the book, which involves the author's coming to grips with the concurrent serious illness of his young daughter, and the realization that his ardor for boxing – his father's favorite sport – arose in no small measure from a doomed effort to connect with, and earn the respect of a father who had no interest in either to his dying day.
The result is a unique combination of themes and insights that does not attempt to reach any pat solution or heart-warming resolution. Instead, we leave the author and the boxers he has profiled the way we found them – damaged by their life experiences and making the best of the hard-won lessons they have learned along the way, but still entranced by the sport that has by turns served them so well and so dangerously.
You can purchase Dangerous in paperback or eBook format at Amazon in the US here and in the UK here. And Ian's website (along with a snazzy new trailer) is here.