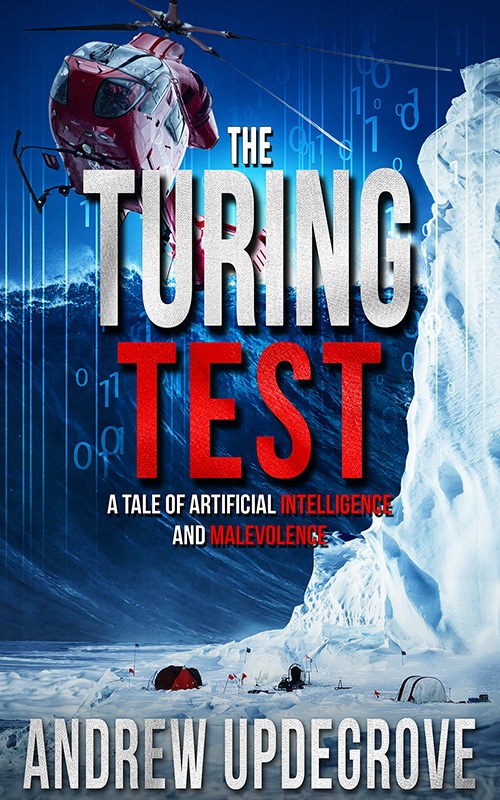 Energy infrastructure around the world is under attack and cybersecurity super-sleuth Frank Adversego must solve a riddle with no apparent answer: when the only attackers capable of staging the assaults are also the targets, who can the attacker be?
Part of the answer becomes clear as power plants, coal mines, refineries and tankers continue to be destroyed: someone – or something – has decided to single-handedly save the world from climate change. As Adversego closes in on his opponent, the attacker does the same in a race to the finish that only one of them can survive.
Buy The Turing Test in print or eBook
format from your favorite distributor:
Lafayette Triumphs: Smart, sharp, technical, topical, political, amusing book I devoured in a few days
Interesting & exciting adventure, with scary implications: Great second book! The fictional hacked poll results seem to be the best explanation for the strange current real poll results!

Fiction??! Not so sure!! Watching the national news every night makes me think this author can predict the future
Wonderful Read: It is a cliché but I literally couldn't put this one down
Frank's Back – Just in Time: I hope that what I just saw on "Pox News" was really only the trailer for this entertaining and thought-provoking novel
A Very Timely Read! Andrew Updegrove's second Frank Adversego thriller is alarmingly timely
Hope this is just fiction! This political thriller will get conspiracy theorists' hearts racing
Almost A Little Too Real: Get it, read it, love it!

Updegrove brings a rare combination of drama, satire and technical accuracy to his writing. The result is a book you can't put down that tells you things you might wish you didn't know.
Adm. James G. Stavridis,