For Authors (and readers, too)
This blog is primarily intended for anyone who is self-publishing, thinking about self-publishing, or just curious about what it's like to be an author during rapidly changing times. Whenever you visit here, I hope you'll share your own comments and thoughts, so that we can learn all learn as much as possible from each other. If you'd like to read my current work in process (and much more), I hope that you'll become a Friend of Frank.
---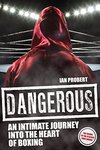 Last week I posted a review of Dangerous, the latest book by mutli-genre author Ian Probert, concluding, "The result is a unique combination of themes and insights that does not attempt to reach any pat solution or heart-warming resolution. Instead, we leave the author and the boxers he has profiled the way we found them – damaged by their life experiences and making the best of the hard-won lessons they have learned along the way, but still entranced by the sport that has by turns served them so well and so dangerously." This week, I'm following with an interview with the author, in which he tells us how and why the book came about.