For Authors (and readers, too)
This blog is primarily intended for anyone who is self-publishing, thinking about self-publishing, or just curious about what it's like to be an author during rapidly changing times. Whenever you visit here, I hope you'll share your own comments and thoughts, so that we can learn all learn as much as possible from each other. If you'd like to read my current work in process (and much more), I hope that you'll become a Friend of Frank.
---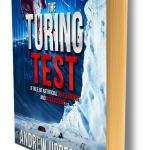 Releasing a new book is always a big deal for an author, no matter how many times it happens. this is the fourth time around for me, and I think  The Turing Test, a Tale of Artificial Intelligence and Malevolence, is my best book so far. Happily, my much-esteemed beta readers all agree.
Long time Friends of Frank will also be happy to learn that, unlike the plots of the three preceding books, this one isn't likely to come true. That is, for awhile. read more…